- Sat Nov 05, 2016 7:55 pm
#29334
Hi everyone!
Zog's back! Sorry for the long absence, I've spent the last year adjusting to my new mobile life style. And the cost! The words "motorhome" and "inexpensive" should never be used in the same sentence!
I'm down in central Florida for the winter and came across this for $40.00: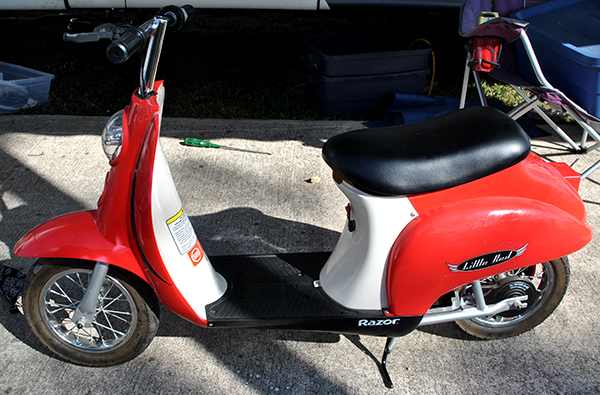 It's almost bleeping brand new, (with dead batteries, of course). I have been promising my daughter to do a build for her once I found something decent and the maintenance guy at the RV park where I'm at for the winter said I can use his workshop, so let the modding begin!
I have a 500w 36v Unite that I've been saving since my last build, so I'm going to pop that in along with a disk brake set up for the rear end. I ordered a twist throttle and an ammeter and I'm looking for suggestions for a controller. I was thinking of using a YK43B, but I can't find any on eBay, although I did find a "CH43B" which looks similar:
http://www.ebay.com/itm/36V-48V-24V-60V ... SwZAtXJAMG
However, if anyone has a better suggestion, please let me know.
Since my daughter will only be riding this when she comes down for Christmas and then when I'm back up north for the summer, I'm planning to just use some 12v 10ah batteries, although it looks like I could put in something larger.
After I do the basics, I might look at doing something with the front end, maybe a front fork suspension and a disc brake on the front wheel.
Anyway, I'm happy to be back modding and working on something other than my 36' motorhome!