- Tue Feb 14, 2017 3:30 pm
#29895
OK, since I'm not busy enough with the Quad build, I decided to start another build at the same time! Giving how crappy my sleep has been lately, I'll probably go slow on this one! And slow down on the Quad also!)
I was at the flea market the other day when I saw this MX350:
You really can't see how bad the paint is in the photo's, but it has the crappiest spray can paint job that I have ever seen! The really funny part is, even though it didn't power up, the woman selling it wanted $100.00 for it!
I laughed and started walking away and she asked me how much I would give her for it. I told her $20.00 and she said, "But I just painted it!"
She ended up taking the 20 and now I have another project.
Stripping it down, it didn't look much better. The batteries are bulging and the chain is so rusted that I don't think that my chain breaker will work on it, I'll probably cut it off with my grinder. However, the frame is solid and really, I was going to throw away the rest of the stuff anyway.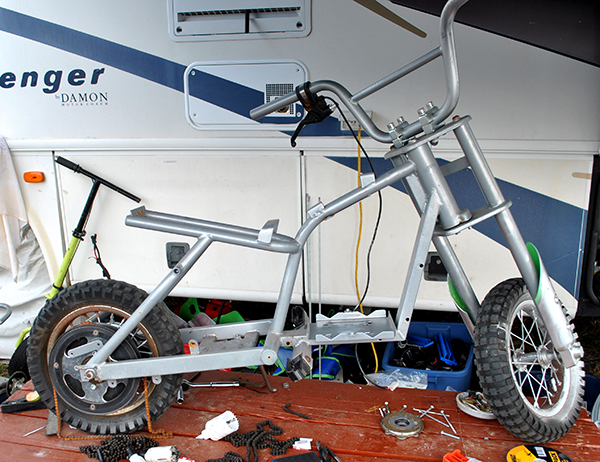 Since everyone has done a 350 build, I need to do something a little more interesting than a new motor and controller, although I will be dropping my 36v 1000w Unite and YK43B from my limiette E300 onto it. What I'm thinking is something like this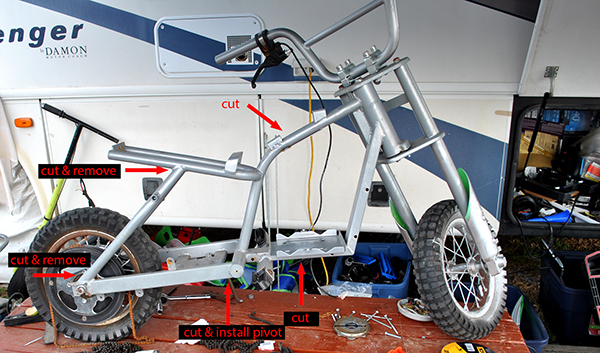 I want to install a swing arm suspension on the tail. I'll cut and remove the down bar on the rear end and then cut the rest of the tail off and install a pivot and a shock absorber. I need to make my motor mount first so I can work out the shock part. I am also thinking of cutting the forward frame and stretching it by about 4".
I am also thinking of install a shock on the front end, something that I could put a disc brake on. Of course, I will convert the rear brakes to disc, but I am thinking of trying to do a right side foot brake, like on a real motorcycle. I
could
switch the chain sprocket to the left side, but then I would have to find a reverse freewheel. Maybe I can do something with a cable, I'll have to see.