- Sat Jan 07, 2012 3:58 pm
#5221
Picked up a Razor Imod for my Daughter about two weeks ago for $100.. guy said it worked good but would not hold a charge.
Stock iMOD Pic..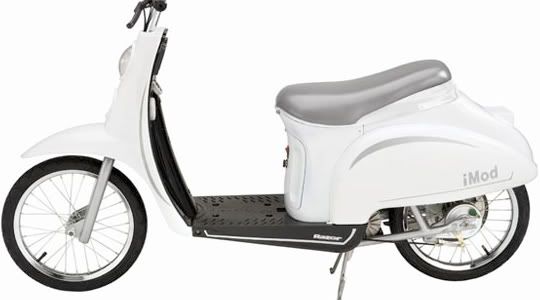 I started off by tearing it apart, then Powder coating the Rims Neon Pink.
So far ive Bought and installed the following new parts..
3- 7ah-12 batteries
1- 36v-MX500 Controller & Throttle
1-36v charger port
1-24v 500 watt Motor
2- Custom Hello Kitty Decals
1- Schwinn Wireless Comp/Speedo
1-Bell LED Headlight
Right now it has a 12t/80t Sprocket setup. Rims are 16'' with 2.125 Tire's
I have the following parts Ordered and on the way.
13t Motor sprocket
55t & 65t rear sprocket for Speed testing
I sent the ugly Factory grey seat to my buddie to have him Recover it with a High grade Black Vinyl with a Pink Hello Kitty embroidered on it .. should have that back and installed in about two weeks..
I planned to install some Pink LED underglow Lights also.. Trying to get it all done for her 11th B-day
Current Pic..