By
rhyoo
- Thu Mar 09, 2017 6:29 pm
- Thu Mar 09, 2017 6:29 pm
#30182
Thanks to Rob, although this is totally new for me, his great knowledge helped me to finish the simple upgrade on my first electric scooter.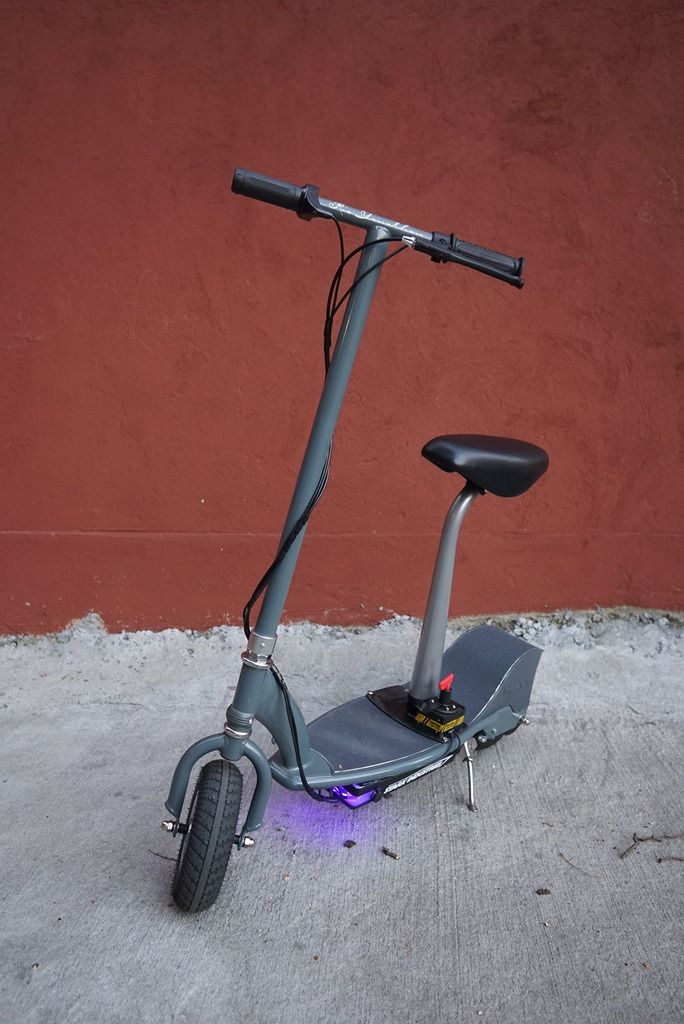 My wife even like it a lot and been using it to supermarket for light shopping or simply have fun riding it with my daughter standing on it. Although far away from powerful, it runs great and I gave it a clean looks with the grip tape, removing all "razor" decal, pasti-dip the seat post to match the black grip tape, and a simple led light to spice it up.
I just bought another e300 for $20 and now I'm ready to build the mean and brutal one for my self. I understand there's a better platform outthere, but e300 just fit me well because of it's size, weight, and simplicity.
I'm looking to build a ride that will give me instant pick-up and crazy torque(wheelie would be great), top speed of 20-25, good running time (5-10 miles), and on the same time reliability. I want to stick with SLA for charging convenient, budget, and safety. Is this possible? On a positive note, I managed to find a welder at my working place, I believe he could help me with mounting, stretch the frame, or making a bigger battery compartment.
I tried to read posts as many as possible here, and from what I'm reading it seems like the ultimate goal here is to install industrial motor for 24-36v set-up and brushless for 48v or more set-up. beside the mounting, are they really difficult to install and finding a perfect balance with the other component while making it reliable?